One of my new knitting year resolutions for 2013 was to learn knitting socks. I don't really know why I've always been so hesitant trying it out. Maybe one of the books I had grabbed on the topic of sock knitting was at fault, maybe it was just my own imagination that grew and grew exponentially to a Mount Everest size respect giant.

Ever since I had learned to utilize the Magic Loop method for i.e. hat or sleeve knitting, at least I didn't need to be intimidated by 3, 4 or 5 teeny tiny DPNs (double pointed needles) anymore, with which to handle a fiddly sock adventure. I highly recommend this method, personally, I do all smaller circumference round knitting that way.
Here's a great video tutorial on the topic of the Magic Loop:
For those of you who haven't started your own first socks yet, and hiding behind whichever mountain of fear or respect, get out of there, you might just find a wonderful new knitting addiction too, and agree with me quickly: "Why didn't I try this sooner - this is so much fun!"
Decide for a construction that you're most interested in, or, like in my case, I picked the one that in my imagination also was the "toughest" one, giving me the confidence that if I'd managed that one, I wouldn't have any problems with all the other methods of construction either. Just my personal approach, and it works for me.
I started out with the cuff down or top down method of sock knitting, working my way from the cuff, over the leg and heel towards the toes and ending with the kitchener stitch. I picked a pattern that had a lot of interest in the stitch pattern, since I didn't want to be bored with miles of stockinette stitch in between.
And so I made these soft and cuddly socks, pattern "Slip-n-Slide" by Chrissy Gardiner:
I was thrilled!! - And, I was ready for and craving the next challenge: knitting a pair of socks two-at-a-time, toe up. It was also a lot of fun, and a great experience to see both socks grow at the same time, getting them off the needles at the same time. I made those for my husband, a pattern by Melissa Morgan-Oakes, called "Twisted Baskets".
For my birthday, I had asked my husband for two essential books, both of the previously mentioned pairs were patterns from these books. The books are filled not only with great patterns, but also with great information, references, techniques. I highly recommend them both.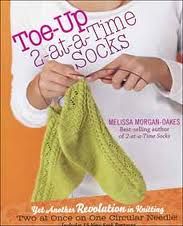 Well, that was all the time I could spare...- being bit by the notorious sock virus, I have to get back to knitting the third pair, a wonderful ribbed cable pattern, I'll share next time! :)
Happy Knitting,